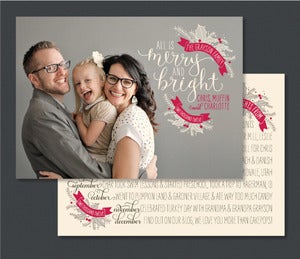 $

238.00 - On Sale
Impress friends and family this year with a custom designed Christmas card designed especially for you! This is a great deal at 40% off!
• Two sided custom designed Christmas card $168
• includes one round of minor revisions
• one photo
• 500 5x7in printed Christmas Cards, mailed to your door $70 + $12 shipping (only ship in the US)
• does not include envelopes
Package Total=$238 + $12 shipping
Please Note: Image shown is just an example of what I can do. To see more designs visit my blog at sweetmuffinsuite.com/blog/templatecards
Directions when Ordering!
1. Please email me (muffin.grayson@gmail.com) the following things:
• 1 high resolution (300 dpi) photo, can be landscape or portrait
• text for back of card. Can do chronologically, so my month, or by family members names
• text for front of card, what is the message you want it to say, "Merry Christmas" or "Happy Holidays". As well as family member names.
2. Examples of images/cards that you like, either links or images. Can be anything. Or if you've seen something on my blog that you like, LMK.
3. Your mailing address where the cards will be shipped to. They will be coming straight from the press to your door.